Air Cooler For Quick Freezer
---
The company specializes in the production of secondary sterilization, cooling and air drying devices for meat food processing, automatic dryers, low-temperature and high humidity thawers, ammonia and fluorine and ethylene glycol chillers, automatic rice steamers, ice cream evaporators, evaporative condensers, in-line quick freezers, marine chillers, and various types of refrigeration, ventilators, air conditioners and other equipment.
Air Cooler For Freezer.
The cooling fan for quick-freezing machine is successfully developed by our company through more than ten years of research and is specially used for users engaged in the quick-freezing machinery industry at home and abroad. Sophisticated production, perfect design, and beautiful appearance have been recognized and praised by the majority of users.
1. Applicable to all kinds of fluorine refrigeration systems and ammonia refrigeration systems:
2. The evaporator of the ammonia refrigeration system adopts the seamless pure aluminum tube, the whole aluminum large sleeve or the steel tube aluminum disc; the pipe diameters are: medium 16, medium 20, medium 25, medium 32;
3. The fluorine refrigeration system adopts seamless T2 purple wire copper tube and a large aluminum sleeve, and the diameter of the tube is medium 9.5, medium 16, and medium 20;
4. The heat exchange tube and the heat sink are closely combined by the mechanical expansion tube, and the heat transfer effect is good;
5. Various materials, various fin spacings and various circuits are available for customers to choose from. The structure and external dimensions can be designed and manufactured according to the requirements of customers.
1. Dimensions Of Ammonia System Air Cooler For Quick Freezer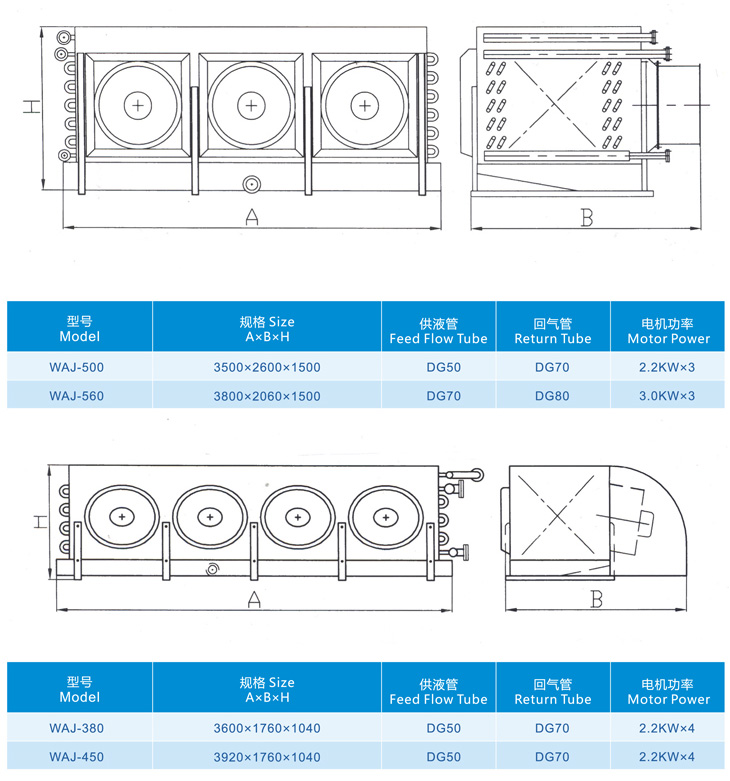 2. Dimensions Of Fluorine System Air Cooler For Quick Freezer